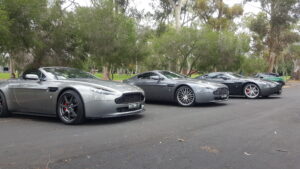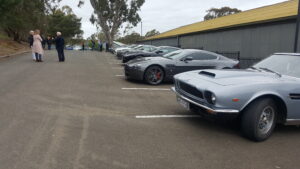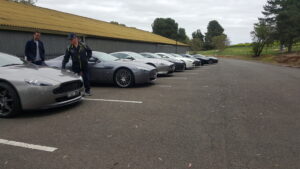 It was a cool and overcast morning when 19 AMOC members and guests assembled at Hazelwood Park in preparation for our October run and lunch.
Area Rep Terry Jones apologised for not organising a run in September that was in part due to the late August meeting, the very popular Bay to Birdwood classic car event and recent public holiday, Terry explained the 18th of October was not an ideal choice of dates either as it clashed with the Bathurst 1000 car race and several members were absent due to social commitments associated with this race – the last one that the Holden car company was competing in.
Terry thanked Chris Barron for organising the run and he handed out run sheets as Chris advised members of things to be wary of, chief among these were the cyclists who frequented almost all roads leading to the Hills on Sunday mornings. We headed off and made our way to Magill Rd and then onto the twisty and narrow Norton Summit Rd that was slow going thanks to the many cyclists and limited forward views that made overtaking difficult. At the top of the road we crossed onto Lobethal Rd that was a true 'long and winding road' before the route opened up to more undulating and faster roads through the Barossa Valley to our luncheon destination, Saltram Winery just outside Angaston. The town of Angaston was named after one of the colony's founders, George Fife Angas, who was instrumental in bringing many German settlers to the early colony of South Australia in the 1840s.
The winery had reserved separate parking for our 9 cars and we chatted about the run before entering the old restaurant building and to our separate dining area located in one of the old cellars that had some interesting historic wine making objects including large barrels and a large filter. We were seated at a large table that allowed adequate physical distancing and we tasted a few wines before selecting the one we wanted to have with our lunch that was very tasty, very filling and very reasonable. We were treated to a port after lunch and a few members took the opportunity to obtain a 40% discount on our wines by virtue of joining the 'No 1 club' – this required purchasing wines to the value of $400 but this was not difficult as it was shared by a few members and hence our excellent wines were made all the more memorable by the special prices.
Terry again thanked Chris Barron for organising the run and he also advised members that Richard and Pam had hoped to be present but Pam was too unwell and he wished her well on behalf of all present. Terry also advised the next meeting was planned for November 22nd and would be a special meeting with the Bentley Drivers Club when we would be challenging them to a game of German Kegel Bowls at the nearby Tanunda Kegel Club. Terry advised the final meeting of the year would be held on December 12th (a Saturday) and that we would be eating at the Three Brothers Arms hotel in Macclesfield. He thanked Richard who had organised the venue. Terry was asked if there would be a run and he replied in the affirmative and that he would devise one in due course.
Feeling quite full and content with lunch, wine and complimentary ports, we departed at approximately 3pm and headed for home in brighter conditions as the sun finally decided to make an appearance.