On Saturday December 12th, a good turn-out of some 40 members and friends attended the South Australian AMOC run and lunch with the AGM thrown in as a 'bonus'.
Richard Dyson Harvey organised the whole event including the morning coffee & cakes at Woodstock Winery in McLaren Flat, a run and finally lunch at the Three Brothers pub in nearby Macclesfield – THANK YOU RICHARD.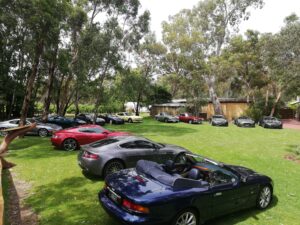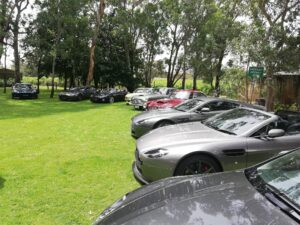 The day was a warm one (34 degrees) but the shade from the large gum trees at Woodstock provided a welcome relief from the direct sun. The coffee and cake was very tasty and the staff made us all very welcome. Our cars were parked on the lovely grassed area to the side of the restaurant and they made a great sight (see photos).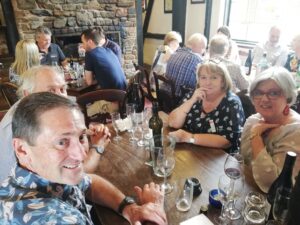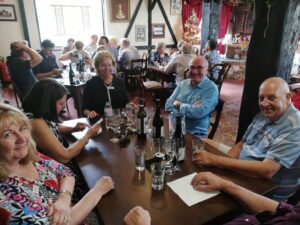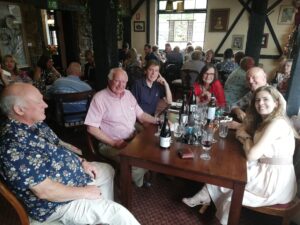 Area Rep Terry Jones called the meeting to order at 11.30am and he started by providing a 'year in review' in which he outlined the eight events we had been able to hold 'in person' and the one 'virtual' event. Given the pandemic situation that affected so many AMOC areas interstate and overseas, we had much to be thankful for this year. The main event that had to be cancelled was just a month earlier (November) when the whole State was locked down just 3 days before the event date and unfortunately this was a combined one with the local Bentley Driver's Club and so both clubs missed out. Terry was very sorry about this as he had put in a lot of work organising it but he advised the work wouldn't be wasted as this was one event he would definitely resurrect in 2021.
The most important function of the AGM was the next item on our agenda – that being the election of the Area Rep for 2021. Terry had already advised members that he was nominating again and that other members who who were also considering nominating were to advise the Returning Officer of their intent. The previous Area Rep, Chris Barron agreed to act in that capacity and he advised no-one had nominated to that time and none responded to his call from those members present and so Chris asked members to vote via a show of hands if they were happy to endorse Terry Jones for the next 12 months. There was an overwhelming vote in favour and no votes against and so Terry was confirmed as Area Rep for the next 12 months.
Terry thanked everyone for their support and promised a full calendar for 2021, subject to restrictions that might be imposed courtesy of COVID.
We were able to try a few of Woodstock's lovely wines before members departed on the run and finally lunch. Terry Jones was unable to attend the lunch but Assistant Area Rep, Terry Holt took photos and reported that it was a very convivial meeting with lots of good food and company. THANK YOU TERRY H.
A final word from your newly elected Area Rep – MERRY CHRISTMAS AND A HAPPY NEW YEAR to all our members