On a very pleasant evening after a warm 33degree day, some 24 members and guests assembled at the Crafers Primary School carpark for the first event of the South Australian Area of the AMOC for 2021.
Area Rep Terry Jones handed out run sheets and advised the run for the evening was almost identical to the run last February but that this year we would be able to see some new growth that is replacing some of the burnt trees that resulted from the Cudlee Creek fires of early 2020.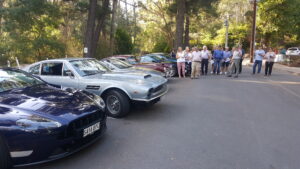 Terry lead the group of Astons onto Piccadilly Rd heading south across the motorway toward Mylor. Most members followed the route directions through the lovely Adelaide Hills but a few decided to follow Terry instead. This turned out not to be a good idea as Terry became distracted by a phone call from AMOC UK and he missed the left turn onto River Rd. Not much time was lost fortunately and Terry and others rejoined the group almost at the rear but places were recovered later, when turning right into Tanhamera Rd (because of a mistake in the route directions that advised turning left instead of right – oops). Fortunately no-one was unduly confused and the group gathered a few miles later at the Stanley Bridge Tavern in Verdun after the 75km drive with the setting sun glistening on the Hills. We had reserved car parks ('guarded' by a brightly dressed local) that allowed good photo opportunities and, after a little discussion of the route, we walked into our private function room for a complimentary glass of Adelaide Hills bubbles.
After the meals had been ordered, Terry addressed the thirty members present (including two visiting from Victoria) and he thanked them for attending and hoped they had enjoyed the run. He also proposed a toast to 'absent friends' with Pamela Dyson Harvey, long standing and much loved AMOC member who recently passed away, in the forefront of all member's minds. Terry then read the email from Richard Furse, AMOC UK, and members were very happy with the message it contained concerning the reinstatement of Bill Griffiths as Australian Rep.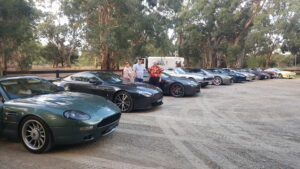 Members settled down to the 2 course meal and lovely Adelaide wines that met with the approval of most and the conversation flowed freely. Terry asked Chris Barron to advise the group on the Stately Affair that was in the early stages of planning.  Chris outlined the proposed event that was primarily for Victorian and South Australian AMOC members (though a few NSW members often attended) and he asked us to give serious thought to attending the event in the first week in October.
The meeting came to a close at around 10pm and members wended their way home via the nearby motorway.