After a week of perfect mid 20s weather, our planned run & lunch on Sunday May 2nd was undertaken in somewhat cooler (20degree) temperatures though we were fortunate to have a lot of sunshine. Twenty one members in 11 cars ranging from Phil's 1960 DB4 to Tom's new Superleggera assembled at Hazelwood Park in the Eastern suburbs of Adelaide at 10.30am.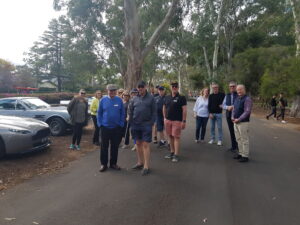 Area Rep Terry Jones welcomed all and advised our numbers were lower than expected because he had received apologies from 6 members in the previous 2 days, one couple suffering reactions from the COVID vaccine they received just 2 days earlier! Terry then particularly welcomed six visiting members (Michael & Jane, Paul & Lisa, Greg and Chee Mei) from the NSW branch of the AMOC. The local SA members were very impressed that our NSW colleagues had driven over from Sydney (a distance of approximately 1000 miles) in their Aston Martins (the oldest being a DB5) stopping along the way in Broken Hill.
Terry handed out run sheets and advised our visitors that we were just a few hundred meters from the Hills that afforded good views (in the rear view mirror) of the City of Adelaide and suburbs right down to the beach. He also advised the initial part of the run would be on twisty, narrow, hilly roads but later, as we approached the Barossa Valley, the roads would become straighter and faster though the scenery was still lovely.
We set off at 11am, travelling via Greenhill Rd through Summertown and Uraidla then onto Lobethal and Cudlee Creek, an area badly burned by bushfires just 18 months ago – and where the fire damage is still evident. We progressed through Mount Pleasant finally ending in Angaston approximately 100km and 90min later.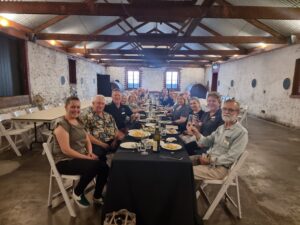 We had reserved car parking at Saltram winery from where we ambled to the old barrel cellar that was reserved for our lunch that comprised a very generous serving of platters of local Barossa fare and pizzas. Saltram has some lovely wines and we sampled a few including a tawny port to complete our meal. There was much conversation and Terry was congratulated on the run and lunch venue and we left, very full, some 3h later. Many members took advantage of the 30% price reduction we were offered on cellar door sales – Terry bought a few bottles of Mamre Brook Cabernet Sauvignon and he observed many others were buying the Tawny port – either a good choice!
Terry reflected after the event that we are very lucky to live in a country where COVID has not drastically altered our lives and this is very evident when reading the AM News that has few reports of events from other Areas of late.  We are also lucky to have such good food and wine from a world-leading wine region (the Barossa Valley) on our doorstep.