On an unseasonally wet, cold and windy November 14th, the South Australian area of the AMOC held their penultimate run & lunch for 2021.
The forecast had been poor for days before and was also poor for several days ahead with daily maxima in the teens when the average for November is in the mid 20s – strange weather indeed.
This did not deter the hardy 22 members and friends who braved the weather to meet at the Burnside Council Car Park at 10am. The run had been organised by members Harley and Annette who provided detailed run sheets. We were joined by member Matthew who advised he was currently 'between Astons', having sold the one he had owned and he was now looking for another. Unfortunately Matthew couldn't join us for the run but he did introduce a friend, Phil who had recently purchased his first Aston Martin, a V8 N430. We were also joined by well known and respected DB7 owner, Trevor who was accompanied by his navigator, Alan, who had the distinction of previously working for Aston Martin at Newport Pagnell in the late 1960s!
We started our run at 10.30am, heading up Greenhill Rd and we were soon into the lovely Adelaide Hills, driving on twisting roads through Summerton and Uraidla and then onto Lenswood, Cudlee Creek and Williamstown before reaching our destination, Lyndoch. Our lunch destination was the Lord Lyndoch in the lovely Barossa Valley town of Lyndoch. The Hills were a lovely shade of green, perhaps not surprising given the recent rains and cool weather but the damage from the horrific fires that started near Cudlee Creek almost 2 years earlier were still very evident. We certainly have very varied weather in South Australia.
Our run was a little shorter than some and hence we arrived at our lunch venue a little earlier than usual but this gave us time enough to get seated, order our drinks and chat before lunch arrived.
Area Rep Terry Jones thanked Harley and Annette for organising the run & lunch and the group applauded their efforts – all agreed it was a good run and the lunch venue was very much 'up to expectations'. Terry congratulated members for their hardiness as he and Harley suggested members could bring any 'significant other' they had in their garage but most drove their Astons! Terry welcomed visitor Phil to our group and he urged members to make him feel welcome. Phil advised he had been made most welcome already and that he intended to join the Club – this was warmly greeted by all.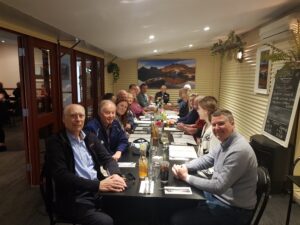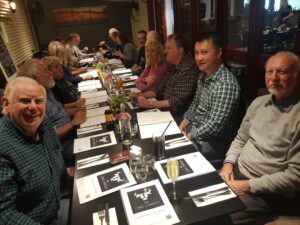 Terry went on to advise our final meet for the year was to be held on December 12th and the venue was to the Saltram winery – the venue we were supposed to enjoy at the Stately Affair that had to be cancelled due to COVID outbreak in Victoria. This meeting was to be our annual AGM and Terry advised he would be standing again for position of Area Rep at that meeting.
Terry also advised we should be soon receiving notification of an EGM that would afford us the opportunity to vote on the most significant changes to the AMOC Committee of Management in very many years. He encouraged all members to examine the detail and lodge their vote as the Club needed sound management desperately.
The final piece of business was the James Bond movie and dinner that Terry H had organised. The group were advised to get their menu selections into Terry H asap as he needed to advise the restaurant tomorrow. The dinner and movie was being held on Thursday the 18th and was a 'black tie' affair with a two course meal after which we will walk into the Wallis cinema and enjoy the movie that has already grossed over $700million!
The business over, we all enjoyed our food and wine for which the Barossa is justifiably famous. Terry H and Terry J, both drivers of 70s Astons made sure they chatted to Alan, former draughtsman at Aston Martin, who shared a few stories of his time working with David Brown and Tadek Marek. They both hope to have further opportunity to hear more of his time at the 'spiritual home' of Aston Martin.
After a very successful meeting, we all made our way home as the afternoon sun shone through the grey clouds.