Report of AGM, run & lunch for AMOC SA December 12th 2021
On a warm Sunday morning, with the forecast maximum of a hot 35 degrees, 15members of the AMOC met at Hazelwood Park, the starting point for the 100km run organised by Area Rep, Terry Jones.
Terry advised we would be joined by 6 or more members along the route making a total of 23 members/guests who attended the final run for the year. He handed out the run sheets and cautioned members on 2 parts of the route, the first at the end of Deviation Rd where visibility was poor and the second where there were prospects of a radar trap. Terry thanked Chris for agreeing to act as traffic marshal at Deviation Rd to reduce the risk of accidents – this had been Chris' initiative earlier in the year and it worked well.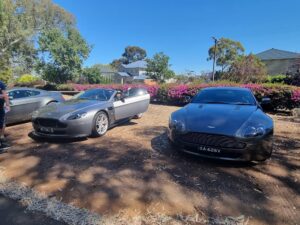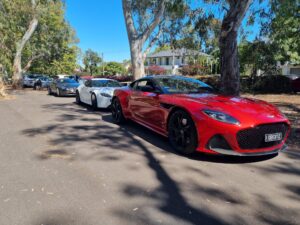 We set off at 10.30am and headed up Greenhill Rd on the twisty Hills roads that are lovely to drive, through Summertown and Uraidla before turning onto Deviation Rd. From there the route took us through Lobethal, Mount Pleasant and then via Eden Valley Rd through Eden Valley and past the world-famous Colin Hayes racing property as we neared Angaston.
Our lunch venue was on the outskirts of Angaston, at Salters Restaurant, where we had an old barrel cellar to ourselves with private parking under the shady old gum trees for our lovely cars.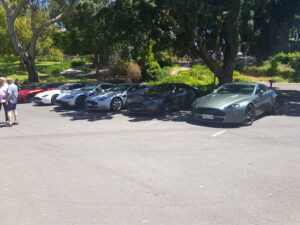 After the entrée had been devoured, Terry advised the group of the years' events by way of the 'Annual Report' that was a requirement of the Area Rep and that was to be forwarded to the Australian Rep. He noted we had been fortunate to be able to have 11 'standard' runs with lunch or dinner as well as a special event for the James Bond movie release and that our final meeting was an unusual one for us in that it was a 'noggin n natter' being held on Wednesday 15th. It was unusual in that we were being informed of the 'goings-on' at Newport Pagnell during the last 1960s by Alan Pearson who was a draughtsman there during the time the DB6 was being produced.
After this we enjoyed our main course and desserts and then Terry advised we needed to hold the AGM. He handed over to former Area Rep, Chris Barron who declared the Area Rep position vacant, advised there was only one nominee for the position, that being the incumbent and he called for a show of hands to confirm member's approval of Terry's nomination. There was a unanimous acceptance and applause as Terry was affirmed as the Area Rep for 2022. Chris and Assistant Area Rep Terry H both spontaneously addressed the group on the difficulties that had been faced during 2021 and they congratulated Terry J on how he had handled the issues on behalf of members.
Terry J thanked all members for the confidence they had shown in his leadership and he especially thanked Chris and Terry H for their support. He also paid special thanks to those members who had organised a run in 2021 and he hoped he could call on members similarly in 2022. He then advised that members should have received an email from the CoM in the UK advising the EGM, that was supposed to held in just a few hours' time, had been deferred due to COVID concerns in the UK. Terry advised the consequences of this were potentially far-reaching and that he would keep members up-to-date with these. He advised that whatever format our Club would take in 2022, whether as part of the UK based club or in another guise, he was confident we would still have runs, lunches and events, and that we would continue to be able to enjoy our cars and each other's company as we have done in 2021.
Conversation flowed freely and several Members bought bottles/cases of wine from the winery before wending their way back home.