Report of AMOC South Australia Run July 11th to Tenafeate Winery
The weather had been lovely in the days before our planned July run but the forecast was for rain starting on the day of the run and persisting all week. This was more important than for many runs as our lunch destination, Tenafeate Winery had mostly dirt/gravel car parking next to their vines.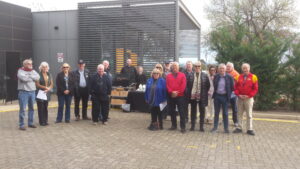 Our starting point was the iconic Penfolds Winery in Magill where coffee was served to arriving members and we had undercover parking that was not needed as the weather was dry. Indeed, apart from a few drops toward the end of lunch, the weather was kind to us.
Eighteen members in 10 cars ranging in age from a lovely DB4 owned by members Tony and Angela (that had not been seen before) to Tom's near new DBS Superlegerra assembled and they were a very impressive sight indeed.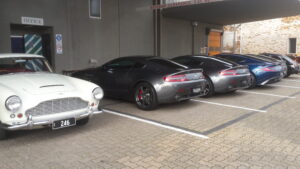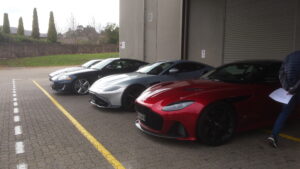 This run took us up Montacute Road and then down the very twisty and aptly name Corkscrew Road, through Kersbrook and onto the One Tree Hill that got its name from a large gum tree that grew there in the 1850s. A short distance along the Gawler Road and we arrived at Tenafeate Winery. We had reserved parking and occupied two tables that had great views of the picturesque Adelaide Hills.
Area Rep, Terry Jones thanked member Frank who organised the run and lunch, and members showed their appreciation with a round of applause.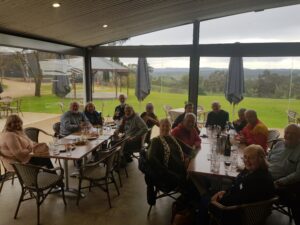 The set menu included cheeses, breads, dukka and olives followed by pizzas galore. The wines were varied and good – Terry had the intensely coloured Durif and it went very well with the pizzas.
We left a little before 2pm – the limit set by COVID restrictions – and all present had eaten their fill. Several also bought some of Tenafeate's wines to take home.
Our next run is planned for August 8th and Terry will provide details via email shortly.