Good fortune once again accompanied members of the South Australian Area of the AMOC on Sunday August 8th when the regular, monthly run and lunch took place. The weather was lovely, especially considering it was still winter and there had been rain in the days before, and more was promised later in the week.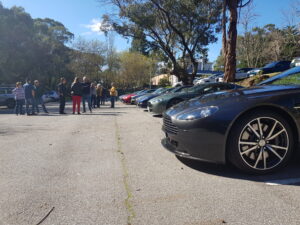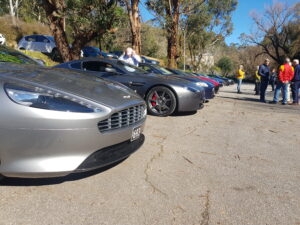 Members met at the Bridgewater Inn carpark where our cars were lined up for photographs in the lovely morning sunshine – see above. Area Rep Terry Jones welcomed everyone and especially new members Sarah & Russell who were on their first run. Terry handed out run sheets and spoke to the run that, he advised was a relatively simple one that followed the Old Princes Highway, the main route to Melbourne just a few years ago. We first drove through Hahndorf, a popular weekend venue for town-folk and Terry advised that progress would be slow but he hoped the onlookers enjoyed the convoy of Aston Martins that would enhance their otherwise ordinary existences (Terry is of the opinion that an existence devoid of Aston Martins would, by definition, be 'ordinary'). We continued through Littlehampton, Nairne and Kanmantoo until we reached Monarto when we turned south and headed to Langhorne Creek. Our lunch venue was The Winehouse where we were able to park our cars on the recently mowed lawns at the rear of the venue that allowed us to admire them while dining. Terry had intended the lunch venue would be Bremerton winery but the recent COVID related lockdown had been followed by restricted patron numbers at all venues and this prevented us using this venue. The Winehouse was a very acceptable alternative and many members commented favourably on the premises and food. Many other diners at the Winehouse were seen admiring our cars and why wouldn't they – on their own they make great viewing but alongside others from the same stable, spanning 60 years of production, they make special viewing.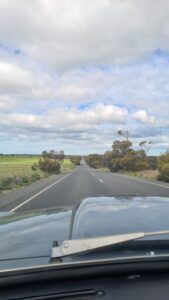 The Winehouse had the same practice as our previous lunch venue, Tenafaete Winery, in that a single payment was required and so Terry paid the total bill and members reimbursed him in cash – this was a something of a nuisance but all took it in good spirit and Terry went home with a dented credit card and a wad of cash. Terry thanked all members for attending and reminded the group (if they need reminding) that we were so lucky with our minimal COVID cases in South Australia that allowed us to have our runs almost unaffected. Our colleagues and friends around the world but especially in NSW have been and are still doing it tougher as their outbreak continues unabated and their limited lockdowns appear not to be working as effectively as the early, sharp but short lockdowns that have been used in SA.
After a very convivial meeting, fine food and wine (and craft beer that was available on tap) as well as great company, members departed for home from the historic Langhorne Creek wine growing region that has some fantastic, gnarled old vines on display from the roadside. A great day and a very successful meeting.