After several months of thanking the 'weather gods' for great weather for our Sunday runs, we had no reason to offer thanks on this Sunday 12th September 2021.
The weather through the week had been great with maxima in the mid to high 20s and so Area Rep Terry Jones watched with a sinking heart as the forecast for Sunday got progressively worse each and every passing day. On the morning of the event, the forecast was tragically accurate and we suffered cold winds, a maximum temperature of 14 degrees, squally rain and even hail – the worst by far for the whole year.
With this in mind, Terry was very pleased that not a single member cancelled and we had 18 members/guests in 10 cars assemble on Maryvale Rd, Athelstone. Members Tony & Lynette had organised both the run and lunch and after thanking members for attending, Terry handed over to Tony to talk to the run. Tony advised us that there was a good mix of winding, Hills roads followed by open, straight roads before we reached our lunch destination, Angus Plains Winery just outside Langhorne Creek. He advised the final 1km or so of gravel road was in good condition and it was good to see the owners of all, including the newest, Aston Martins accepting this without even a shrug.
We set off on our 80km run but within a few minutes, the rain hit, followed by small hailstones and a strong, cold wind that persisted. The run took just over an hour and we were all glad to reach the winery and enjoy the warmth of the log fire and gas heaters. We had one problem with the directions, namely where Eckert Rd, as described on the map and run sheets, was signposted Cheriton Rd but this merely delayed our arrival by a few minutes.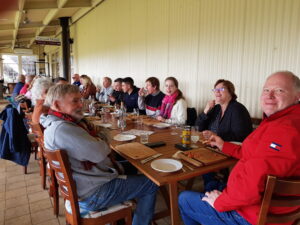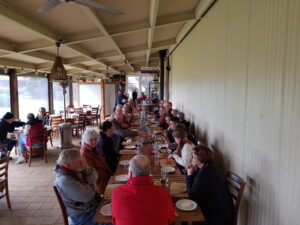 We had a tasting of the local wines followed by entree and main course of pizzas. Our lunch room was imperfectly shielded from the elements unfortunately but Terry found rotating between the heaters was sufficient to keep toasty warm.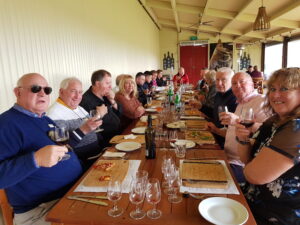 Terry thanked members for attending (including 6 members who met us at the winery) and reminded them that the October event (the Stately Affair between Victoria and South Australia) had been cancelled due to an outbreak of COVID-19 in Victoria. Fortunately, former Area Rep, Chris offered to organise a run and he proposed the 17th (later changed to the 24th) October as the date. Terry also advised members that he had started discussions with Solitaire (the local Aston Martin dealership) about a premiere screening of the much anticipated (and delayed) James Bond movie, No Time to Die. The movie was now set to launch in Adelaide in mid November and Terry advised he was hopeful we could arrange a black tie event with Solitaire Aston Martin to celebrate Daniel Craig's last Bond movie.
Members then enjoyed the food and wine tasting and several bought a bottle or two to take home. The weather for our return journey was much milder and the sun even broke through on occasion!  Another enjoyable AMOC South Australia event.